We have carefully selected 7 luxury villas in the Algarve with private pools, each boasting unique charm and design, so you can choose the perfect one for you.
You can truly holiday when you have the luxury of your own pool. There is nothing quite like stepping out of your villa and relishing in a cool dip while soaking in the country's breathtaking natural beauty. Little ones can have endless fun playing, splashing, and swimming in complete privacy while the adults soak up the sun and relax. So, whether you're looking to simply unwind by the pool, explore the local beaches, or indulge in the region's world-class cuisine, these villas provide the perfect base for quality time with your loved ones. Plus, they will leave you with an Algarve adventure you will never forget. Here are 7 luxury villas in the Algarve with private pools.
---
Casa Amigavel
Private infinity swimming pool
Short walk to the beach and restaurants
Five bedrooms
This magnificent villa has been crafted through a collaboration between renowned local architect Mario Martins and the use of exquisite Portuguese design, combined with the latest contemporary materials from Uber Cheshire and Rory by Design Quinta Do Lago. The result is an unparalleled residence that will make you feel right at home. The gardens at the villa are meticulously maintained and showcase beautiful native Algarve plants. They perfectly complement the 18-metre heated infinity pool and the shaded al-fresco gas BBQ dining area, just a few steps away from the main living areas. For those seeking a truly indulgent experience, Casa Amigavel boasts a hot tub deck, which offers the perfect spot to enjoy a sunset drink with views of the Atlantic. And if that's not enough, an upper roof terrace provides panoramic vistas of the coastal line, making it an ideal setting for witnessing mesmerising sunsets.
What's nearby?
Casa Amigavel boasts breathtaking natural scenery along the Meia Praia / Lagos coastline. You'll enjoy stunning views of the Atlantic Ocean from this location, which is conveniently situated next to the Palmares Golf Course. There are plenty of outdoor activities to participate in while you're here, including golf, horse riding, go-karting, mountain biking, and even a water park in nearby Lagoa called Slide and Splash. If you're into water sports, you'll be thrilled to know that the Meia Praia beach offers a range of options, including sailing, surfing, wakeboarding, kite surfing, and kayaking.
---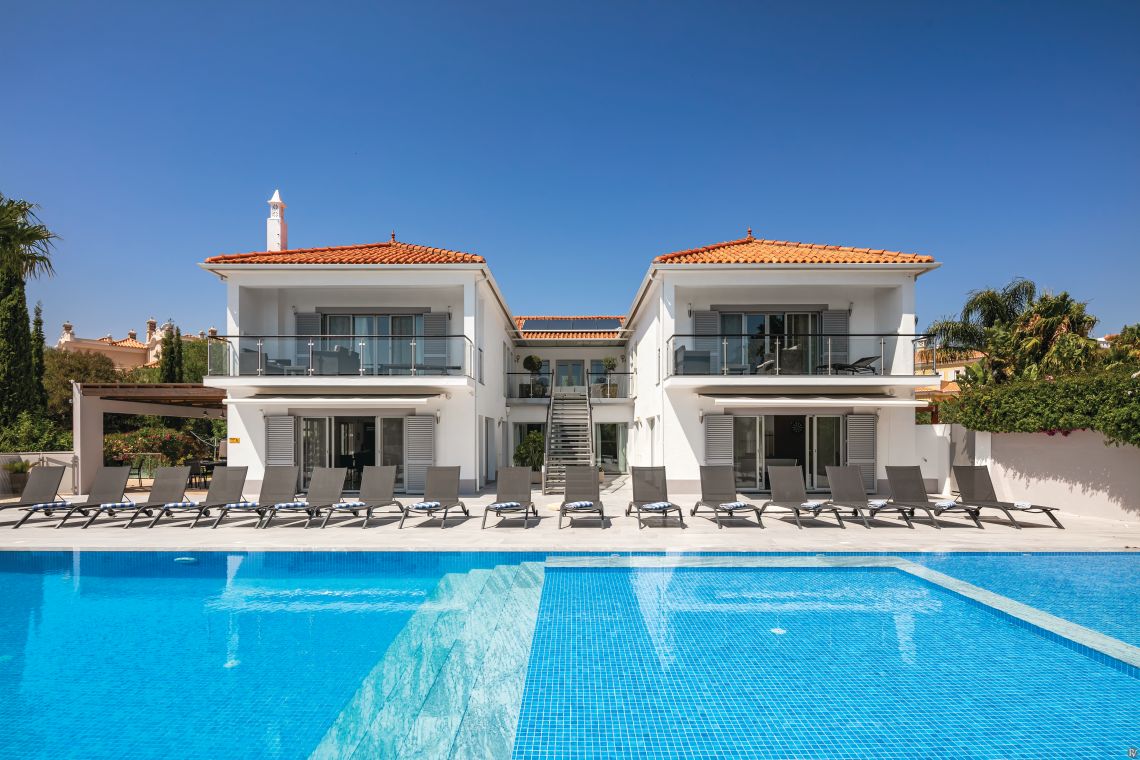 Casa Blanca
Private swimming pool with three zone depths
15 minutes' drive to beaches
Seven bedrooms
Casa Blanca offers an array of sun terraces perfect for unwinding by the pool. One of these terraces is shaded and equipped with a BBQ area, making it an ideal spot to enjoy a refreshing drink or a delicious meal straight from the grill. The pool is impressive, measuring 18m x 5m and boasting a salt system and ph neutral water. With three different depth zones, this pool is ideal for families. There is a shallow area for lounging, a middle area for toddlers, and the main pool area. The pool also features a volleyball net with shallow ends each side, making it an ideal spot for a game. The landscaped gardens are really beautiful, and guests can enjoy two swings and a hammock for the most relaxing break.
What's nearby?
This villa is located on the Vale Formoso Hills, north of Almancil in central Algarve. It's only a twenty-minute drive from Faro airport, making it a convenient destination for travellers. Almancil is a popular area that offers a great selection of bars, restaurants, and the famous Mar Shopping Mall and designer outlets. Mar Shopping can be reached in just ten minutes by car. The villa is situated just five kilometres from the town centre, where you will find the luxurious resorts of Vale do Lobo and Quinta do Lago, which are well-known for their excellent golf courses, tennis courts, horse riding facilities, and water sports. The area also boasts some of Europe's best EC Blue Flag beaches.
---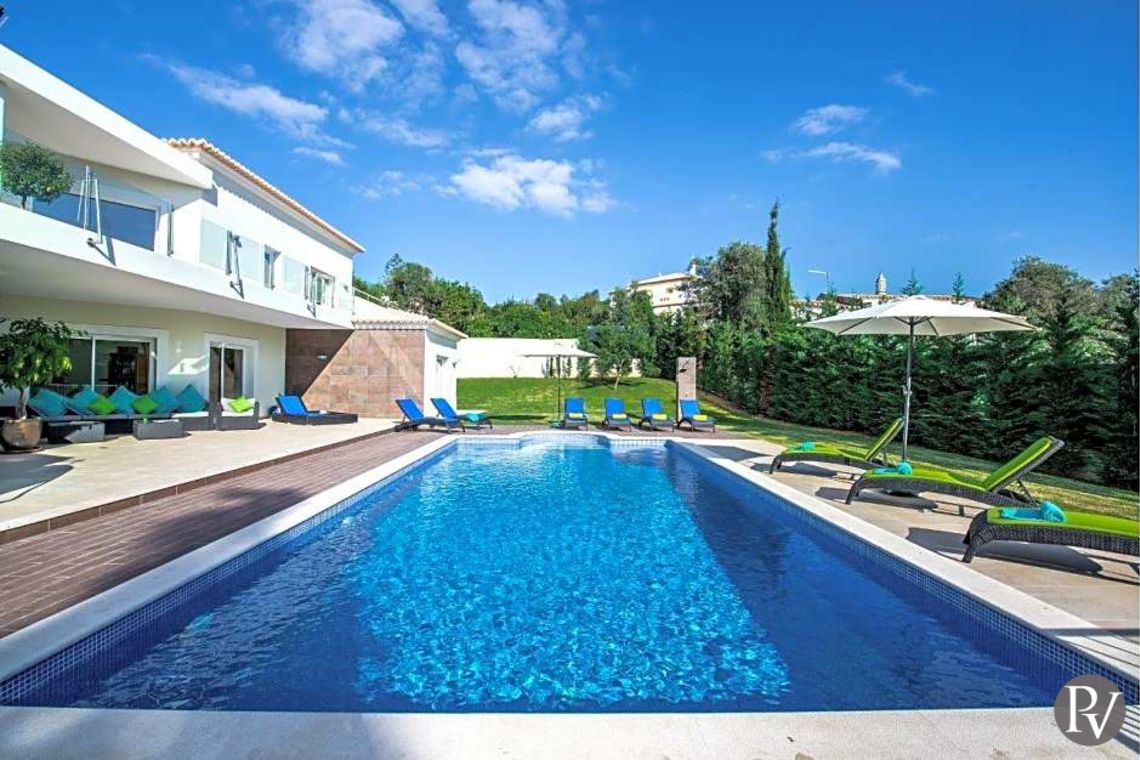 Casa Cristal
Private swimming pool with cover
Short walk to the beach and restaurants
Six bedrooms
Casa Cristal is truly a rare find, boasting a prime location just a few hundred metres away from stunning sandy beaches and within walking distance from the town centre. This magnificent modern property is incredibly spacious and can comfortably accommodate up to twelve guests, making it the perfect choice for large groups looking for a luxurious and comfortable stay. The highlight of this property is the spacious swimming pool, which is privately tucked away and surrounded by lush lawns and furnished terraces. You can unwind in the comfortable seating area under the covered terrace, perfect for enjoying shade on a hot day. The large outdoor table is suitable for enjoying a leisurely lunch or a BBQ by the beautifully lit pool in the evening. You can also bask in the sun on the comfortable sun loungers and umbrellas that are carefully placed around the pool area. Reviews boast how well equipped this villa is and families return repeatedly.
What's nearby?
Located in Carvoeiro, part of western Algarve the location of this villa is so good that renting a car is not essential. There's a beautiful beach just a 10-minute walk from the property. Carvoeiro town centre is 1.2Km away (20 mins to walk) with restaurants and shops all within walking distance. A short drive away is Praia de Benagil, a beautiful beach situated in a valley. This beach is perfect for exploring the nearby caves and secluded beaches by renting boats or kayaks. One of the highlights of the area is the renowned Benagil Caves, which includes the Algar de Benagil. This is the largest cave with a circular opening in the ceiling, known as 'the eye,' which allows light to filter in and reveals a small, hidden beach within. You can also take a boat tour to witness this natural wonder.
---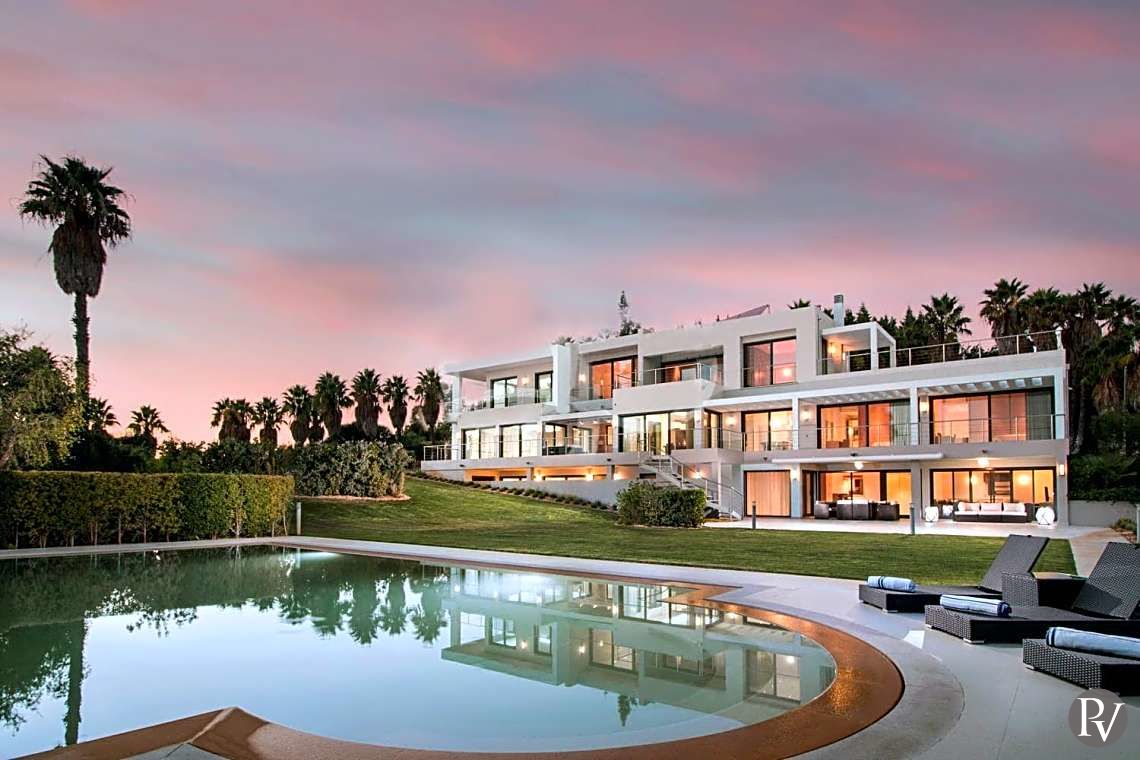 Villa Cloe
Private swimming pool with cover
Maid Service- 5 times per week
Seven bedrooms
This stunning estate is a true hidden gem on high ground on the outskirts of Quinta do Lago. With exceptional panoramic views of the Ludo Valley and the sea beyond, Villa Cloe delivers the best of both worlds. You can enjoy the privacy of your gated property while benefiting from flawless service that rivals that of a 5-star hotel. Beautiful private gardens with numerous palm trees, endless lawns, and a large natural pond surround the villa. Plus, the villa is perfectly positioned - it faces southwest over its expansive landscaped gardens, floodlit tennis court, and of course, fabulous swimming pool.
What's nearby?
Quinta do Lago is an exceptional golf and residential estate that exudes elegance and privacy. This exclusive estate is a breathtaking testament to nature's glory, spanning almost 2,000 acres of beautiful rolling countryside and pine forests that run alongside the Atlantic Ocean and the Ria Formosa Natural Park. It is a place of outstanding natural beauty. Despite its secluded and idyllic location, Quinta do Lago is just a short drive from Faro Airport, making it an accessible and convenient destination for those seeking a luxurious and peaceful retreat.
---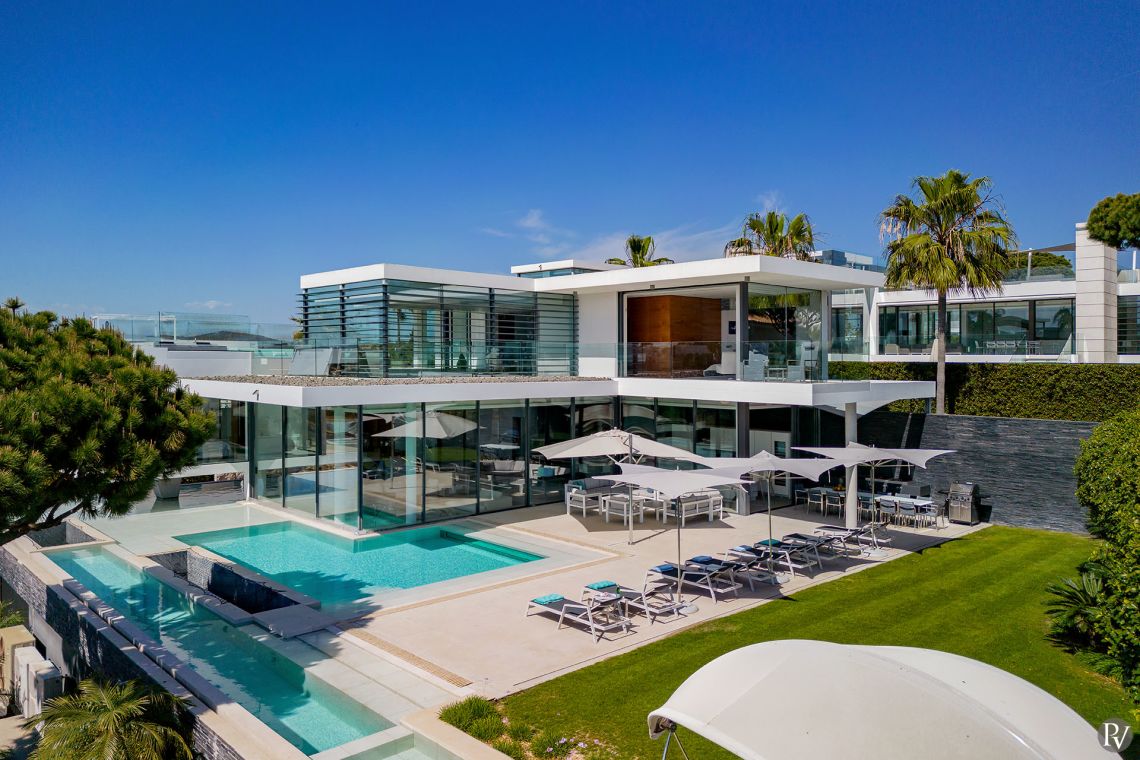 Villa Bondi
Private swimming pool
Maid Service- 5 times per week
Six bedrooms
This magnificent property boasts an incredible view of the golf course extending to the ocean. With a private terrace and water features, guests will feel surrounded by water. The property has ample space to sleep up to 12 people. The living area is adorned with expansive windows that give the space a chic, modern feel. An open-plan lounge, dining area, and state-of-the-art kitchen with matching TVs make this an ideal space for entertaining. The kitchen is equipped with top-of-the-line Gaggenau appliances, including an inbuilt espresso machine for fresh coffee. The walls of glass lead out onto a sprawling terrace with outside dining, living, and BBQ area, as well as a stunning pool. Additionally, there is a roof terrace with a seating area where guests can enjoy the breathtaking views and watch the sunset.
What's nearby?
At Vale do Lobo, there's no shortage of activities to make your holiday unforgettable. You can enjoy a game of golf, lounge on the beach, play mini golf, go horseback riding, indulge in fantastic dining experiences, play tennis, participate in water sports, experience the nightlife, and relax at the wellness centre. With its breathtaking and diverse landscape, this resort offers golden beaches, promenades lined with shops and restaurants, crystal clear waters, and a warm Mediterranean climate. The Parque Natural da Ria Formosa is just next door too.
---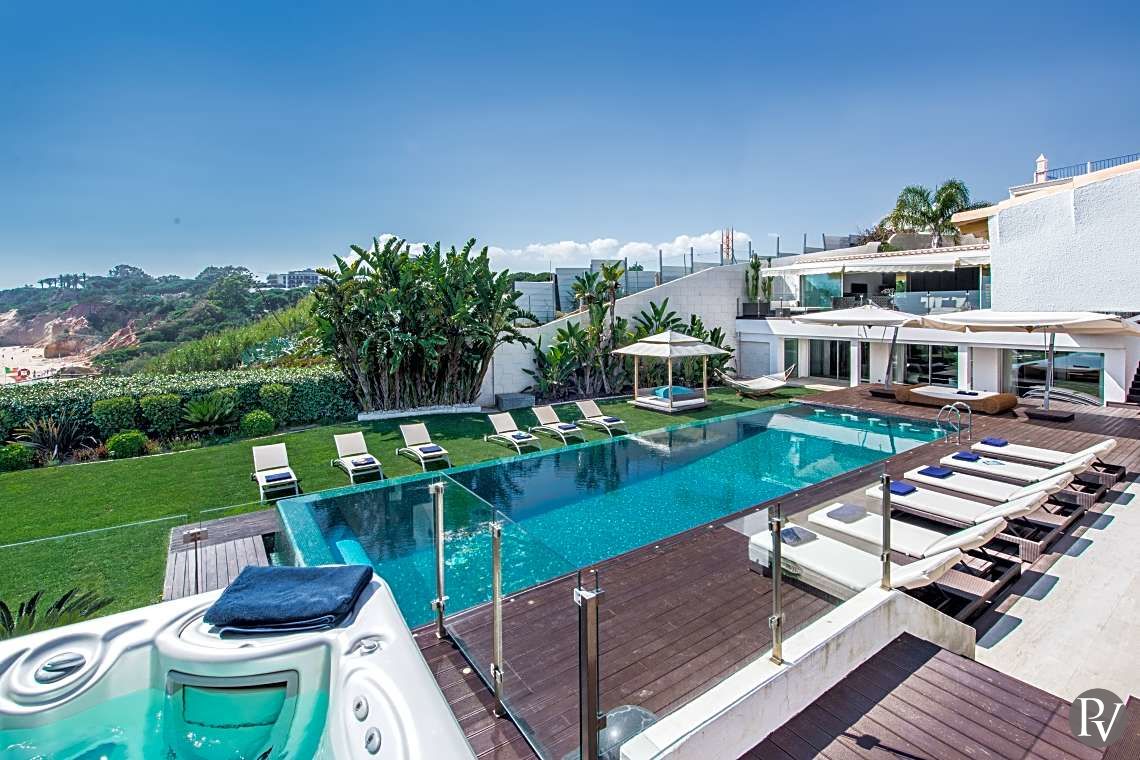 Savannah
Private infinity swimming pool
Direct access to the beach
Eight bedrooms
Savannah is a beautiful villa with eight bedrooms in Olhos D'Agua, in the Algarve's southern region. You can enjoy breathtaking sea views from the villa and even directly access the beach from the garden. The villa has been designed with the utmost care and attention to detail, ensuring that every aspect is consistent with modern luxury living at the highest level. Step outside into the pool area, and you will be greeted by a beautifully designed rectangular infinity pool, measuring 16m x 6m, constructed using the finest Italian Bisazza tiles. The pool sparkles brilliantly in the sun and is equipped with a motorised cover, while pool heating is also available for a weekly supplement. The pool bar is the perfect place to relax and unwind, with its underwater bar stools and poolside Jacuzzi. Plenty of sunbeds are available, as well as two double outdoor day beds, one of which has a permanent shade. The extensive wood decking provides ample space for lounging and is set within mature gardens with manicured lawns.
What's nearby?
The villa's location is perfect as it is close to the beautiful golden sandy beaches and the shops in the friendly and laid-back fishing village of Olhos D'Agua. A diverse range of restaurants serve international cuisine, and there are numerous bars and cafes for you to unwind in. Within less than 4km from Olhos D'Agua is Albufeira's lively and bustling atmosphere, which is well-known for its bars and clubs.
---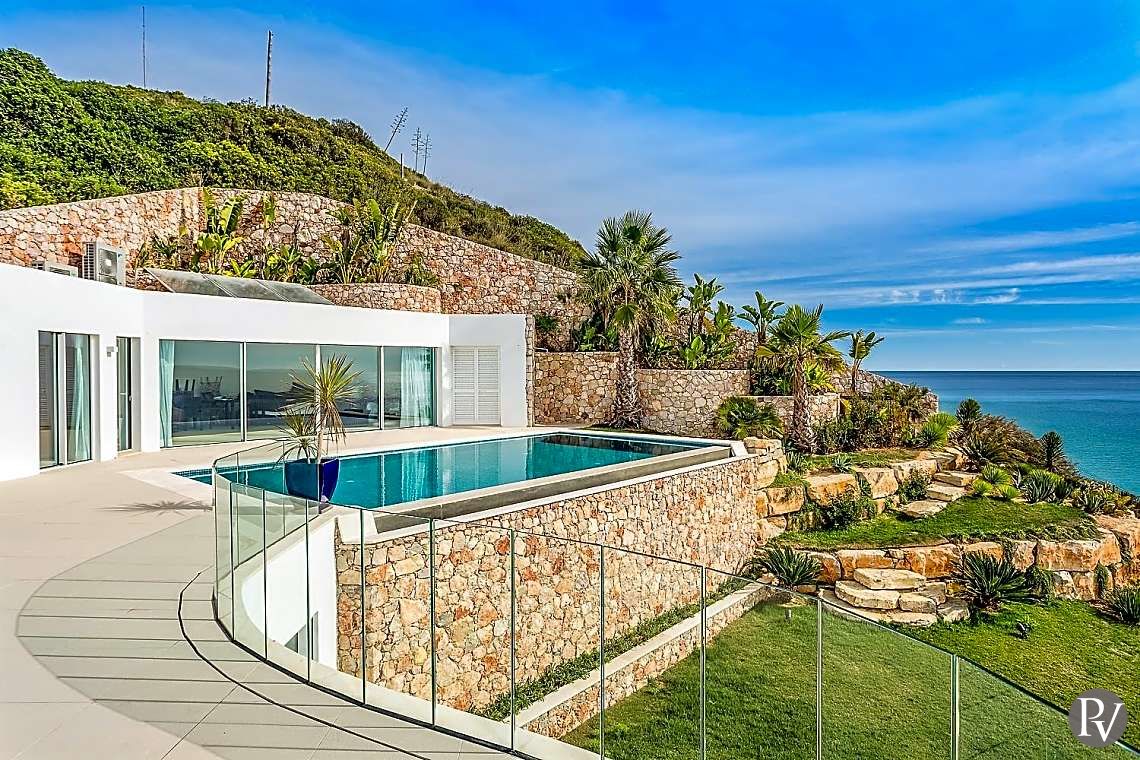 Vila Aleta, Vila Sol Collection
Private infinity swimming pool
Beach access
Four bedrooms
Vila Aleta is a beautiful villa located in the charming village of Salema. From its cliff-top location, you can enjoy ocean views over Salema beach and the coastline. The villa boasts a contemporary design combining elegance, luxury, and sophistication. With four bedrooms and ample glass sliding doors that lead directly onto terraces, gardens, and a private rooftop infinity pool overlooking the ocean, this luxury villa is decorated in a clean and contemporary Mediterranean style. The striking whites, blues, and lilacs create a calm and soothing atmosphere, with large living areas and abundant natural light streaming through the windows. It's the perfect villa for a dream holiday.
What's nearby?
To glimpse the village's history, take a left up the narrow Rua dos Pescadores and explore the old part of Salema. Here you'll find small, white-washed cottages and cobbled streets. On the right side of the square, you'll find the newer part of Salema with more modern amenities. The beach in Salema is quite long and boasts beautiful golden sand. The cliffs rising from the sea interrupt the beach at both ends, adding to its natural charm. If you head to the beach's western end, you'll find a big, flat yellow rock with footprints from a dinosaur - a unique and fascinating sight to see.
---
Please note the pools can be heated during your stay for an additional fee. Just check on the listing for further information.
Whether you are travelling with your family or friends or looking for a romantic getaway, these luxury villas are the perfect choice for your next holiday. With their private pools, sleek designs, modern amenities, and breathtaking views, these villas offer an experience you will remember forever. We hope we have inspired you to book one for your next holiday! Thank you to our freelance travel writer for helping us create this article.