More than luxury holiday homes
Looking for something in particular?
Sea Kayaking: The Best Way To Explore The Algarve Coast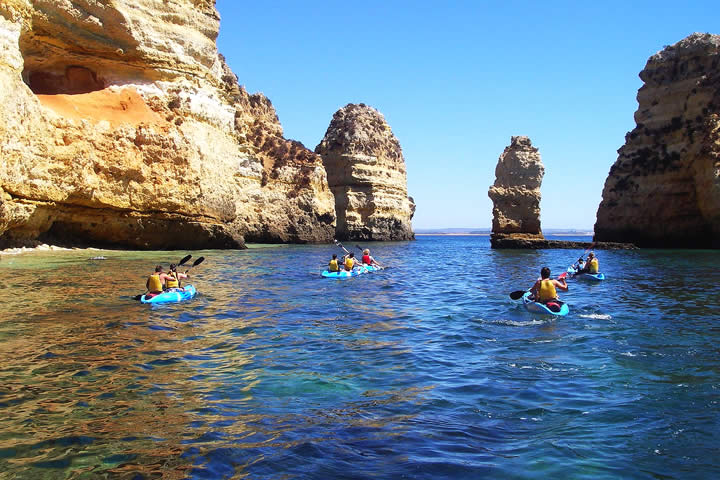 We all agree at Premier Villas that the Algarve coastline is beautiful, but what's the best way to explore it? That wasn't so easy to decide! One of our favourites is by sea kayak.
The Algarve coastline boasts award-winning beaches (some of the best in Europe!), incredible grottos and extraordinary rock arches. There is a lot see, which makes a sea kayak tour the perfect way to do it all.
The great thing about sea kayaking is that it's something all the family can do and there are plenty of tours to choose from, whether you're a beginner or an experienced kayaker.
For example, you can spend a couple of hours kayaking the calm turquoise waters off Lagos, where you can discover the extraordinary Ponte de Piedade caves and some secluded beaches, not to mention the local wildlife, which includes dolphins.
Alternatively, you can spend the whole day exploring. Typically on these longer sea kayak tours, you'll head for the best beaches and deserted islands, where you stop for drinks and food and have the chance to swim and relax in the sun. As you take in all the sights, you'll also have the opportunity to go snorkelling and sailing.
Of course, after all this sea kayaking you'll want to head back to somewhere wonderful to relax. By the pool at our Casa Cristal exclusive Algarve villa or on the terrace at Villa-Centianes another luxury Algarve villa are perfect places to swap stories of Atlantic adventures.
For more information on Premier Villas and our villa holidays in Portugal, contact us on +44 1243 514970